Measuring Inclusion by Looking at Informal Networks
newsletter#4
Measuring Inclusion by Looking at Informal Networks
"The era of globalization knows no bounds". Globalization has indeed brought a drastic change in the world and has altered the mechanics of many companies. With a workforce that consists of employees hailing from various ethnic backgrounds, companies are looking for ways to make everyone feel at home at work. As organizations grow, a greater risk of fragmentation along gender or regional lines is probable. 
While diversity is a morally noble aim to have, backed by its various financial benefits, it is not easy to achieve; at least not without its issues by way of conflicts and friction that a multitude of perspectives bring. Inclusion, therefore, is not a natural consequence of diversity! And there is no silver bullet to measure or address inclusion.
There are several instruments and indices which measure the level of inclusion the company's workforce experiences. Gartner's Inclusion index for instance, uses seven parameters to measure inclusion in the workplace – fair treatment, integrating differences, belongingness, diversity, psychological safety, trust, and participation in decision making. The problem lies in defining the obtained data as good, moderate, or bad; as there is still no universal scale to measure participation known to the world. Also, why limit participation only to decision making; what about assessing other sources of exchange or information, resources, and materials – by way of networks and relationships?
With this lens in mind, we at OrgLens have devised a unique model to measure Inclusion, by assessing the following five dimensions: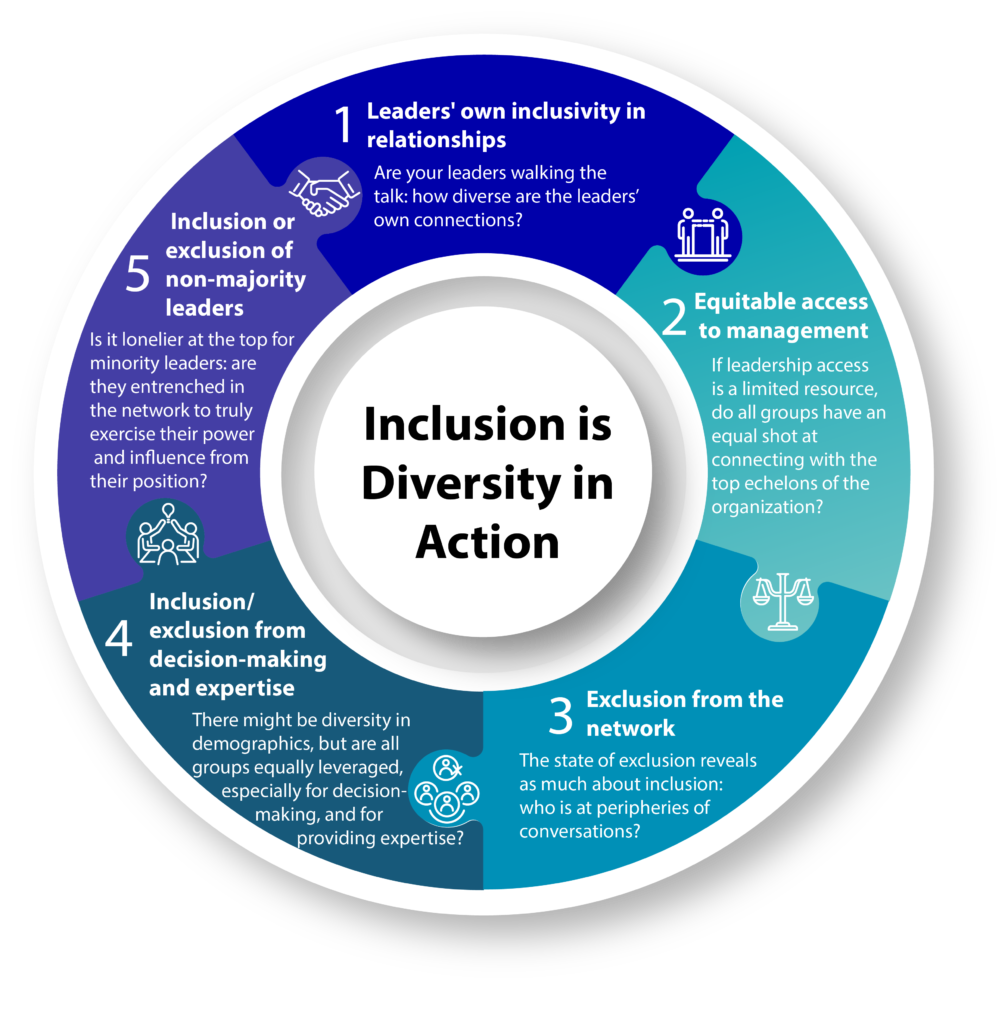 At this juncture, you might wonder: well, how sound a logic do we have here, in uncovering biases in professional relationships? What if the workforce demographics are 80:20 (male:female) to begin with? Naturally, the working relationships will look skewed!
We've got this covered, statistically.
The analysis takes into account the organization's demographic baseline, and then uses statistical techniques to simulate how relationships would look if they were completely randomised. If there is a statistically significant difference between the simulated and actual figures, it would mean that that demographic attribute does influence the way in which employees at the organization work and interact with each other, signalling a problem.
Bonus: unlike an engagement survey, where you have to do an additional step viz. a focus group discussion to narrow down both — the exact pocket where the issue lies, and the issue itself — here, with one organizational network analysis (ONA) exercise, you get to the root of it, and are poised to take targeted actions for improving the level of inclusion.
At OrgLens, we have made it our mission to address the crucial gap of measuring inclusion by developing this model that sets organizations and leaders up for success in their DEI initiatives, by addressing the starting point of inclusion – participation. We believe that this model is a radically new way of thinking about Inclusion – it leverages the latest scientific research, combined with a powerful technology platform and a model grounded in behavioural, organizational, and social psychology.

Write to us at info@orglens.com if you would like to give it a go.
Nabeela is a Partner at OD Alternatives with more than a decade's experience in professional services, consulting, and e-commerce companies in work areas of OD, Recruiting, Engagement, Rewards, and DEI – built a model of measuring inclusion at the workplace through the lens of analysing professional networks.
Download and Subscribe to our OD Quarterly here.