Nurturing and Developing Political Leaders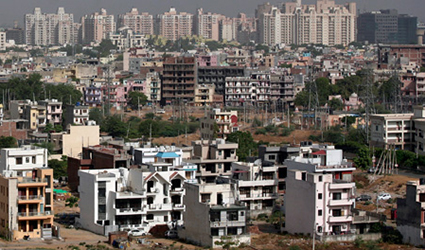 I'm not sure how Jack Welch would react to today's Gurgaon, considering it was he who gave GE the green signal to set up a facility there back in 1996. A city that has over 30 shopping malls, seven golf courses, hospitals that are fancier than five star hotels, more than 20 outlets for luxury cars like BMW, Audi, Mercedes and Porsche; the tallest residential tower coming up, offices of most multinational companies – and of course food from all over the world. This however, is not a sales pitch for the city! Along with these signs of growth and development, a place once known as the Guru's Village and now Gurgaon also suffers from severe water crisis, lack of a proper sewage system, inadequate public transport and power shortage. Just a few kilometers from DLF City, villagers do not get basic education or health care, and struggle with poverty. Either Gurgaon is telling us how not to build a city, or it is a perfect example for our political leaders of how not to develop India. Or perhaps Gurgaon is challenging us to change the notion that in India, growth usually occurs despite the government rather than because of it.

What can be done to equip our political leaders to focus on long-term inclusive development and better management of our country's resources? Boardrooms are usually willing to learn leadership frameworks from social and political leaders like Mahatma Gandhi, Nelson Mandela and Mother Teresa, and even from movies like the two Munnabhai films, Three idiots and Chak De: India. Unfortunately this is a one sided move, since the political leadership has not done much to learn from corporate leadership. Singapore is usually quoted as an example where the government adopted performance measures practised in the corporate world into political leadership. How do professional private organizations build leadership capability and manage performance? How do they measure individual and organization performance? While leadership development is a multi-billion dollar industry, most leadership studies are focused on corporate and organizational leadership while comparatively little attention is given to political leadership, other than the biographies of political leaders.

So what specific actions can our government take to make sure our ministers and MPs are equipped to deliver excellence in their roles? The first step is to create a scorecard for the government and ministries against which one could measure their success.

1). Have a performance score card that includes all aspects of development

The balanced scorecard is a strategic planning and management system that is used extensively in business and industry, government, and non-profit organizations worldwide to align business activities to the vision and strategy of the organization, improve internal and external communications, and monitor organization performance against strategic goals. While GDP is usually the area of focus, we tend to undermine the importance of other types of performance indicators which are equally or even more important. For India to be a respected global player, the aspiration to be a global power alone will not be sufficient. We need to focus on a Social Progress Index and Human Development Index along with our focus on GDP. Social progress is the capacity of a society to meet the basic human needs of its citizens, establish the building blocks that allow citizens and communities to enhance and sustain the quality of their lives, and create the conditions for individuals to reach their full potential.

The Human Development Index (HDI) is a comparative measure of life expectancy, literacy, education, standards of living, and quality of life for countries worldwide. To simplify performance reporting, many countries adopt a framework that organises multiple performance indicators and scorecards under key strategic outcomes. The President's Annual Report in Canada is one such framework that tracks the country's performance in six key areas: Canada's place in the world; Canada's economy; its society, culture and democracy; its aboriginal peoples; the health of Canadians; and the Canadian environment. Bhutan has adopted the Gross National Happiness (GNH) index. GNH has four pillars: the promotion of equitable and sustainable socio-economic development; preservation and promotion of cultural values; conservation of the natural environment; and establishment of good governance. So what kind of scorecard will demonstrate the true development of India, and how can it be used for performance measurement of the Indian government?

2). Create a competency framework for MPs and ministers

Competencies are those underlying characteristics of an employee – motivation, traits, skills, aspects of his/her social image, social role or a body of knowledge, which can result in effective and/or superior performance in a job or role. There is a lot of literature and studies around the competencies of a leader within the context of private organizations, but little is known about the skills needed to be a leader of a modern political party, a cabinet minister or prime minister. There is a need for studies and articulation of the concept of political competence and to use that to select and develop political leaders. The recent controversy around the HRD minister's educational qualification arose due to the lack of a model to measure political competence.

Research over the past 50 years has shown that there is no single 'leader personality' but leaders generally show certain common characteristics. They are usually intelligent, very socially skilled, good communicators, highly motivated, and able to inspire and persuade others to follow. Some of these characteristics are innate, but they are all developed and fine-tuned through experience. As such, leaders are not born, but their potential has been transformed into actual 'knowledge' and 'skill'. Political environments are more complex than business environments – so what kind of competencies will help Indian ministers lead India into the future? While we have recently created competencies for the Indian civil services, awareness on those competencies and their implementation need to be done.

3). Leadership and capability development

Most private and public organizations have a focused and structured approach to develop leadership capabilities in their leaders. These capabilities are based on the competencies identified and developed on the job, by going through new, challenging experiences, through training provided and by self-learning through reading, reflecting etc. Many of the corporate leaders also have personal coaches who help them navigate the complexities. Political leaders, ministers and MPs also need to constantly develop their leadership capabilities through all the three above-mentioned approaches. Training programs on leading the self, leading others and leading a ministry/state will support leaders to increase their competence and provide a platform to get genuine feedback on their behaviour and actions.

"My main job was developing talent. I was a gardener providing water and other nourishment to our top 750 people. Of course, I had to pull out some weeds too," said Jack Welch, the management guru. I am sure Dronacharya, the guru behind the name of Gurgaon, would feel disappointed if he sees the city now. And if we say it is development, he would be hearing a second lie years later, if we believe " Ashwatthama is dead" was a lie.

When it comes to developing and nurturing the talent of our political leaders, I wonder who the gardener is and who will make sure that pulling out weeds will be based on competencies and performance.
Download and Subscribe to our OD Quarterly here.