The One Thing That Matters
In today's volatile market world, THE ONE THING THAT MATTERS is!
In today's volatile world where new entrants are posing existential crisis to giants ( Open AI vs Google), unprecedent pandemic wave is changing the way we work, geo political landscapes questioning the fundamentals of humanity, Leadership is posed with a challenge which is not conventional. As it is said, when you are in doubt, revisit the basics. Maybe it is a good idea for Leaders to reflect on what is that ONE thing which needs to be paid more attention and nurtured every moment, every day…
When I look at this scenario, As Leadership and as a Leader, ONE thing that needs to be set right according to me, so that an organization is able to withstand the turmoil and tectonic market shifts is;
ALIGNMENT between these THREE dimensions, i.e.
INTENT- ACTION- IMPACT.
When we look at the giants who survived centuries, who maneuvered various technological shits, market turbulence, they at that given point of time, didn't have all the machineries needed to navigate the situation, neither didn't have all the answers, all these organization and its Leadership had was immense ALIGNMENT between their INTENT-ACTION- IMPACT.
Now the question we may ask here is, where does this INTENT come from? What is that ONE space which can give birth to this INTENT when it comes to Organizations which is a complex system? Like mentioned earlier, when in doubt, revisit the basics, the INTENT comes from organization's very PURPOSE of existence. It is very important for Leaders or whoever is a part of the organization to be very clear and completely onboard with the PURPOSE of the organization. The only thing for which the organization exists.
During the World War II, Merck & Company made sure to ensure Streptomycin is available in Japan at zero profits. Now when you go and check Merck's purpose statement set by George Merck it clearly states, "medicines for patients and not for profits, if we remember, profits will follow". This was a tricky situation for Merck, then their INTENT was to save lives, it was to get the medicines to the people, irrespective of who they are, where they come from, what they do.
As Leaders and Leadership team it is critical to ensure INTENT is well connected and stemming from the PURPOSE of the organization. If this happens, no matter what the external conditions are, who the competitors are, organization will be able to make desired choices without shaking its core. End of the day, it is all about making choices and executing it, then the bet is, are those the correct choices. Else, every turbulence may pose a question about existence which may not be the case, then lack of clarity about the PURPSOE of the organization can lead to thoughts and INTENT which might be catastrophic to the existence of the organization.
Once Leadership or the Leader is clear and completely onboard with the INTENT aspect, then what follows is second dimension, i.e. ACTION. Are your ACTIONS in line with INTENT? Simply put, are your actions satisfying the ultimate PURPOSE of the organization? If you look at Merck's case they were clear with their INTENT, the ACTION followed.  The crucial part of ACTION is the mindset and the strategy which team creates to combat situation. Let us take the case of Microsoft. When we notice the PURPOSE statement of Microsoft "empower every person and every organization on the planet to achieve more and when we pay close attention to the INTENT shown & ACTIONS taken by Microsoft, it is all aligned to its PURPOSE. MS Office is now open for app store. Because Microsoft wants its users to be able to access its tools and products in whatever capacity they have, they don't want anything to stop its users from achieving something meaningful. Extensive number of joint ventures, partnerships (Open AI, Mindcraft, cloud suite for Small Businesses etc) and community programs designed and conducted by Microsoft is in this direction of making their product family robust such that users get everything they want to create what they need and achieve what they desire.
Leader's ACTION or rather Leadership's action is also visible in their day-to-day conduct. The language they use, the approach they implement to problem solve. When the organizations' s Leadership and Leader in particular is CLEAR about the ACTION to be taken and its connection to the INTENT, then people start to observe the ALIGNMENT. This ALIGNMENT is making the team believe in the organization and in its Leaders.
The third dimension is IMPACT. It doesn't matter how sophisticated or thoughtful the intent and actions are, if it is not generating the intended IMPACT. When Leaders have established the ALIGNMENT with INTENT and ACTION, their job becomes more intense as part of having the ears to the ground, being in continuous touch with how people are experiencing the process on daily basis, whether organization is able to effectively navigate through highs and lows, is organization able to produce, sell goods and generate requisite profits? Are their teams able to make the right choices? The routine processes, rituals, communications all need to be completely designed to ensure they are able to assess the IMPACT proactively and meaningfully. If they see their INTENT and ACTION is not generating the intended IMPACT, then it might time for Leadership team to make necessary changes, modifications to any of the THREE mentioned Dimensions of all the THREE. There are situations in real world, where the INTENT & ACTION was not generating intended IMPACT, organization reframed their INTENT ( i.e. Purpose itself). Microsoft after Satya Nadella coming in, is an excellent case study where they redrafted their new PURPOSE statement ( the one about empowerment) and then guided everything in that direction.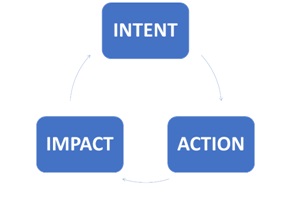 INTENT-ACTION-IMPACT are to be viewed as part of a circle. Each feed into each other. Smoother the navigation among these THREE dimensions easier it becomes organization to withstand unprecedented challenges, competition etc. Because, world is constantly upgrading, there will never be an SOP to tackle new challenges, all that organization will have is their internal muscle strength i.e.
ALIGNMENT between INTENT-ACTION-IMPACT.
 P.S. Views expressed in this article are solely based on the perspectives of the author.
Shijin is an Associate Partner at ODA (OD Alternatives) works with Leaders and Organization in the areas of team effectiveness, culture, Leadership Development, Top Team Alignment.